Michigan Thumbcoast Holiday Guide 2020: What, Where & When
Did 2020 change your holiday traditions or plans? No worries, we've got some incredible 'tis the season choices for a magical Michigan holiday for the entire family. The Thumbcoast boasts many seasonal events, unique gift boutiques, lighted parades, horse drawn hayrides and one-of-a-kind tree farms for that holiday masterpiece you'll decorate! Grab a hot chocolate, put on festive music, get a warm blanket and your calendar because you'll want to make plans to visit!
Fort Gratiot Lighthouse photo by Cheryl Cencich.
Holiday Events
Nov. 26 – Jan. 1 | Port Huron | Festival of Trees Display
Nov. 28 | Port Huron | Small Business Holiday Shopping
Nov. 27 | Port Huron | Sperry's Drive-thru Santa Spectacle
CANCELLED Dec. 1 | Marine City | Merrytime Christmas Parade
Dec. 5 | Marine City | Merrytime Christmas
Dec. 5 | Algonac | Lighted Christmas Parade & Nativity
Dec. 5 | Marysville | Lighted Christmas Drive-thru Parade
Dec. 5 | Harbor Beach | Annual Lighted Christmas Parade
Dec. 5 | Port Austin | American Legion Drive-Thru Kids Christmas Party
Dec. 5 | Port Austin | Silver Bells Artisan Market at the Village Green
Dec. 11 – Dec. 19 | Port Huron | Historic Trolley Tours – Holiday Lights
CANCELLED Dec. 12 | Lexington | Old Fashioned Christmas Horse Parade
Dec. 13 – 24 | St. Clair County | Elf off the Shelf Social Media Tour
For detailed information about these social distance friendly events, visit our EVENTS GUIDE for the Blue Water Area Convention & Visitors Bureau. Events are subject to change, please check with each venue directly before visiting. Wear a mask and remember to social distance.
Photo: Sperry's Santa Parade, Port Huron
Holiday Tree Farms
Holiday Boutique Shopping
The shoreline communities of the Thumbcoast have some of the best shopping boutiques around, shop small and shop unique this holiday season. Look-up boutiques by the community you're visiting at Holiday Shopping!
Photo: Le Marché Artisan Market in St. Clair.
Elf off the Shelf
Tour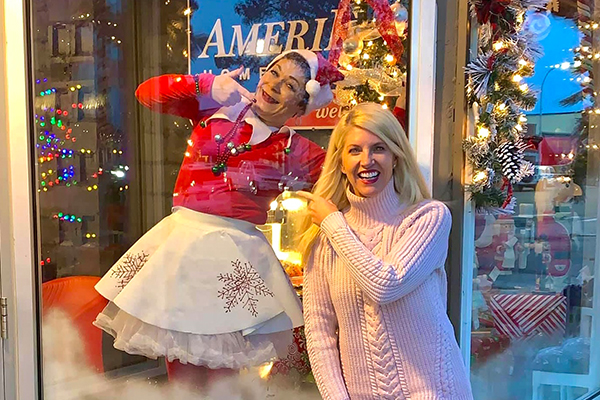 Follow us on social media for a special Elf off the Shelf Tour with Pixie Glitter Flake 12 days leading up to Christmas, brought to you by Amerifirst Home Mortgage in Port Huron. Videos of the Thumbcoast are on our TikTok page.